"The Tinklers had a fabulous time and thought you were wonderful. Thank you again!"
C Schoeder, Century Travel, a Virtuoso Agency, Atlanta, GA, USA Sep 2009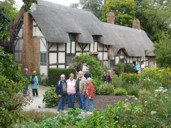 "On behalf of the McNews and my husband, we would like to THANK YOU for one of the most delightful days that we had on our cruise/trip. The weather cooperated, your car was very comfortable, drinks were enjoyed and the knowledge you provided us with was educational. If our plans should ever bring us back (which they could-because you gave us a taste of the area that we would like to see more of) we have you in our travel portfolio as a very positive and enjoyable person to deal with.
I do want to thank you again for a beautiful day and the joy you brought to our vacation. There should be more Anne's in the world."
Judy Rassenfoss, Burlington, Kentucky, USA Sep 2009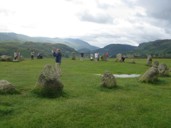 "This was our second occasion to use your services for a week's tour. As before (4 years ago), this tour met our expectations in full and we do appreciate your planning, especially for me, stopping at the 3 prehistoric stone circles. Should the opportunity to be in England occur again, we shall certainly contact you."
Boyd and Jeanette Woodruff, New Jersey, USA Jul 2009
"Anne YOU WERE SIMPLY THE HIGHLIGHT OF OUR TRIP!! We'll definitely be in touch (& refer you as often as possible…)."
Greenberg family, Dallas, Texas, USA Jul 2009
"Allen and I can't stop talking about what a wonderful time we had with you. You truly understood what we wanted and were incredibly patient with our hundred and one questions. We can't wait to come back and tour some more with you."
Allen and Jone Dalezman, Boston, MA, USA Jul 2009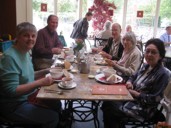 "It was a pleasure getting to know you and to benefit from your expertise. You were great with my parents and Keiko – very understanding and helpful. I know they all had a wonderful time and great memories from the trip."
Hugh and Sandi Woodruff, New Jersey, USA Jul 2009
"Danielle told me that your tour with the students of Lycée Notre Dame Grand Lebrun was very good and that they want to ask you to do it again next year!!"
Geneviève Eltvedt, Terre Des Langues, Tours, France Jun 2009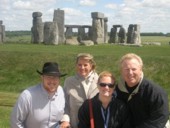 "Thank you for the terrific job you did, sharing your knowledge and insights to make our visit to London and the countryside so enriched. We really enjoyed the time with you. Attached is one of my favorite family photos which you took at Stonehenge. We really appreciated you driving us out to Salisbury in the rain. Helping us get our bearings in London was great – a bit overwhelming on the first visit, but by the time we left we really felt like we knew where things were above and below (Westminster Abbey and St. Paul's Cathedral) ground."
Ky, Steve, Sean & Dana Bouchard, Denver, Los Angeles and Washington DC, USA May 2009
"We the class 11b from Germany wanted to thank you for your guided tour through Hampton Court. We really enjoyed your way to present the information and appreciate your knowledge not only about the castle and we think you seemed to be full of dedication and created large enthusiasm in us, which made everything much more interesting and even funny. We could understand everything very well and it was great that we always had the chance to ask questions, which you were always able to answer – even the rather weird ones. All in all we pretty much enjoyed your open way and had the opportunity to learn easily about the British culture in the past. We think you rock! "
Gabriel-von-Seidl Gymnasium, Bad Tölz, Germany May 2009
"Just a line to say thank you for looking after Mr Arvedi and family on Saturday. They really enjoyed their trip out with you and thought you were great."
Arvedi Group, Cremona, Italy Mar 2009
"Thanks for making our trip so fantastic. You did an outstanding job and were great fun!!! Billy Elliot was amazing and unforgettable. Paris was magical. However, we walked everywhere which wore me out but it was well worth it. I wish we had more time in each country. I may want to do more of England next spring. Will stay in touch and thanks for the yummy recipe."
The Lippman family, Atlanta, GA, USA Mar 2009
"Anne Mark, our guide, is the "dream guide" come true.
I want a guide who is on time. Anne was always early and patiently waiting for us.
I want a guide who is warm and friendly. Anne is exactly that!
I want a guide who knows her subjects and shares knowledge with enthusiasm. Anne offers a perfect balance: she doesn't overwhelm you with information but rather understands how different people learn and sees how we absorb new things—and Anne then responds accordingly. She made sure to get to know us and then made the experience into a perfect fit! Her depth of knowledge and her breadth of knowledge are impressive.
I want a guide who brings energy to her work. I don't want it to sound like it has been said a million times. Anne is always present, enthusiastic, and in love with her subject! Frankly, Anne made our trip. We really feel we "know" London because of her guidance. The days we were with her were worth every moment, and the days we were on our own were based on what Anne showed and taught us.
We're already talking about going to Paris by flying to London and hiring Anne to go with us to Paris for a day or two. She's amazing!"
B & A Kurzweil, Long Island, NY, USA Jan 2009
"The client (Apple Computers) was extremely complimentary about you and your linguistic skills, even at one stage attempting Russian!!!!!"
Silverfleet, Woods River Cruises, London Jan 2009
"Thanks again for the tour! Always a pleasure and a very enriching experience for our pupils."
Lycée Virlogueux, Riom, France Jan 2009