Catherine Lecocq du Collège Sainte Thérèse m'a dit à quel point ils avaient apprécié la visite avec vous jeudi, merci pur eux.
 Geneviève E,  Paris, France                       October  
 Thanks for the great tour we really enjoyed the day and you made it really fun and easy for us.
Rohini M,   Maidenhead, UK  &  India      August
Thank you for the wonderful days of touring we spent with you as well as putting us in Russell's competent hands. We had a great day at Stonehenge and Salisbury and he was just as knowledgeable as you and terrific to spend time with.  I hope our paths cross again in the future.
Dan and Helene L, USA  August
 We had a fantastic holiday starting with yourself in London
The Deebs &the Bellantonios, Australia July
We have been telling friends and family all about our trip. They are amazed that we saw so much! We had the best time on our trip. We have decided it was the best overseas trip we have taken so far. Thank you so much for showing us your country! It is a beautiful place
Jo, Kaye and Katie C,  USA                           June
A very sincere thank you for giving us such a wonderful tour yesterday. The French Rotarians thoroughly enjoyed the experience and loved being so close to the many and various iconic structures (or Olympic buildings!). Everyone was very complimentary about your commentary, your knowledge of the area and also the buildings. Thank you also for keeping such very good time enabling us to arrive on time for the lunch.
By the way the French thought you were the best interpreter they had ever had…..and they especially liked your good sense of humour….so praise indeed!
Fionnuala F, Berkshire, UK                           June
Recibe nuestros saludos desde México, tenemos grandes recuerdos de la visita a los castillos.  Muchas gracias por todas tus atenciones.  Saludos,
Ricardo, Mónica, Isabella y Patricio,   Mexico      June
  My family so enjoyed our tours of the Tower of London and Westminster Abbey.  A wonderful combination of knowledge, humor, and patience!…an outstanding job and I look forward to contacting you in the future when I'm planning my next European trip.
Pamela I, Chicago, USA                            May
Just want to say again how much we enjoyed your being our tour guide last Tuesday and Thursday.  You are very knowledgeable and we truly appreciated all of your insights into London. We loved being with you.  It was truly a relaxing experience.  Thanks again for such a specialized grand tour of London. We accomplished so much in such a short period of time.
Tara, USA                                                            May
A successful week with the Brazilians. We would like to thank you again for your dedication and great help with this group. You were a big contribution to turning this week into a success.
Franziska,  Kuoni U,                                         May
Anne Mark the guide was fantastic. A very nice guided tour and a pleasant guide. The afternoon was 100% successful.
René Lenaerts,  Belgium                                April
Thank you so much for all the hard work you put in to organising our private Art Deco Day it was exactly what I wanted
Carol G, Manchester, UK                                April
Thanks so much for taking care of my lads.  They had a great time with you.  Mike said you were a riot.  (American slang for very funny and great fun) As usual super job….
Melanie A, Formost Travel, Mequon, USA             April
Muchas gracias por todo Anne, ¡no sé qué hubiera hecho sin ti! Te echamos de menos durante la cena en el Cambio de Tercio.  Espero seguir mandándote mucho, mucho trabajo, porque todo es más fácil y enriquecedor cuando se tiene a una gran profesional, como tú, al lado.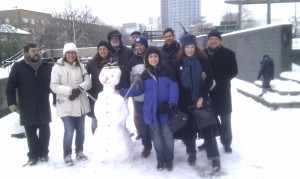 Maria Eugenia B, Visit Britain, Spain                        April